Many reputable tattoo machine brands offer all sorts of tattoo machine models in different shapes and sizes . Whether you are a new inker looking for their first tattoo machine or a veteran tattoo artist scanning for the latest tools to add to their arsenal, you may find the choices too overwhelming.
With so many options available in the market, it can be difficult to determine which is the best tattoo gun . What's more, it can be even more challenging to discern which is the best tattoo gun for you and your business.
Before discussing the best tattoo machines in the market, it's necessary to shed some light on a few details about tattoo machines that may help you make an educated decision.
What Are The Different Types of Tattoo Machine Guns?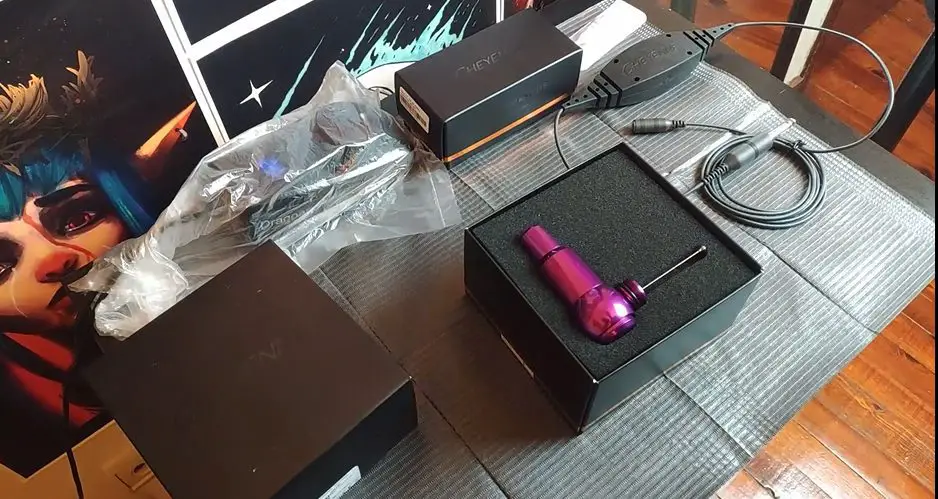 Different tattoos come in different shapes, sizes, designs, patterns, and colors. The same goes for the tattoo guns used to create these eye-catching works of art. While some artists do by using only one type of tattoo gun, an experienced tattoo artist likes to use different types of tattoo machines for different purposes.
Generally speaking, there are two main types of tattoo machines – coil tattoo machines and rotary tattoo machines. These primary types of tattoo machines are further subdivided into different categories depending on what you're using them for.
1. Coil Tattoo Machines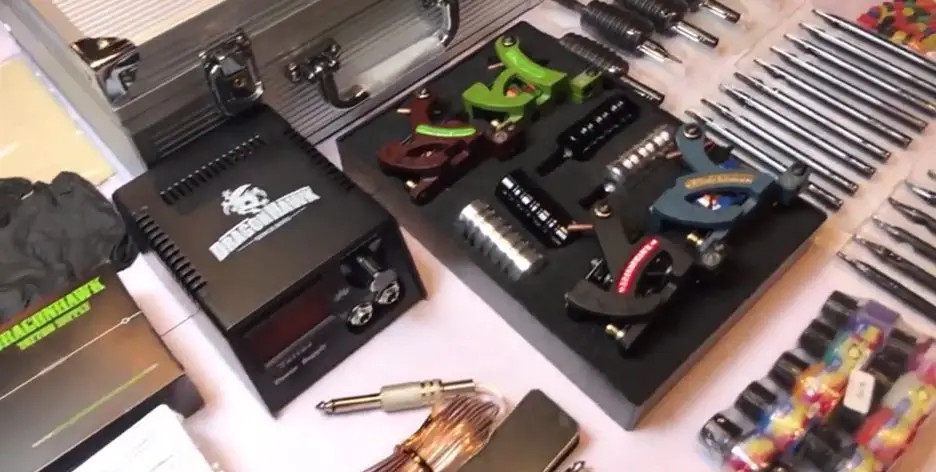 The coil machine revolutionized the mechanization of the tattoo artist's job. Derived from the self-writing pen of Thomas Edison, it was first patented in 1891 by Samuel O'Reilly.
Coil tattoo machines are behind that familiar noise you hear when entering a tattoo shop. And yes, it's the device most commonly found in tattoo stores.
It's sought after by many tattoo artists because of these reasons:

Regulating the speed and power of coil tattoo machines is relatively easy
Customizing coil machines is also easy.
Work efficiency is guaranteed by coil tattoo machines, netting shorter completion times.
Lastly, coil machines are heavier, which allows for more control on the artists' part.
The Elements of Coil Tattoo Machines
Coil tattoo machines have several elements. These are:
Frame
The frame acts as the base or the skeleton of a coil machine. It is responsible for holding the functioning parts of your tattoo gun. Although the materials of a typical coil tattoo machine may vary from one design to another, these frames typically are made from steel or non-ferrous alloys.
Coils
The coils of your coil tattooing machine are essentially a pair of electromagnets that feature a steel core. They are mainly responsible for operating your tattoo device.
Coil tattooing machines have either 8 to upwards of even 16 16-wrapped coils. For a coil tattooing machine, higher wrapped coils mean more powerful electromagnets. Before you go ham and purchase a tattooing machine with a high wrapped coil count, keep in mind that more wrapped coils also make for a heavier machine. The most popular coil tattooing machines often have around 10-12 wrapped coils striking a balance between power and weight.
Capacitor
The capacitor is a small electronic component that is chiefly responsible for eliminating spark during the opening or closing of an electrical circuit.
Armature Bar
This magnetic element of your coil tattooing machine is mounted on the device's spring. Its main function is operating the teetering movements to get the machine working. This part is ejected by the spring under the influence of the electromagnets and is returned using its own force.
Springs
The springs are a pair of metal plates, one of which carries the bar inward of the frame. The other is affixed to the bar, which acts as the contact.
Contact Screw
The contact screw is typically a screw made of silver or copper. It makes a pair of contact when paired with another spring. The striking motion is created when they clamp and unclamp. This component regulates the piercing frequency and the needle's depth.
Types of Coil Machines
There are three types of coil machines. These are:
Liners
A liner is a coil machine whose main function is to inject the tattoo ink fast enough to prevent it from leaking out. The frequency of this type of coil tattoo machine ranges from 120 Hz to 150 Hz. Liners with higher speeds achieve sharp lines and color separations. They are typically not heavy, and the distance from an armature bar to spring is 4 to 5 mm. Please note that tattoo artists can't use this type of coil tattoo machine to pack colors.
Shaders
On the other hand, shaders are used for filling big areas and creating shadows. Some differences distinguish shaders from liners. For instance, it has more wraps, it isn't as fast as a liner, and its contact spring is less soft than a liner. The average frequency of this coil tattooing gun ranges from 60 to 100 Hz.
Since these tattoo machines aren't designed for speed, the needle would remain in your skin longer. This design was intended to allow the tattoo ink enough time to roll out in your skin tissues. The armature bar is 9-10 mm away from the spring. Tattoo artists cannot use a Shader tattoo machine for outlining tattoos.
2. Rotary Tattoo Machines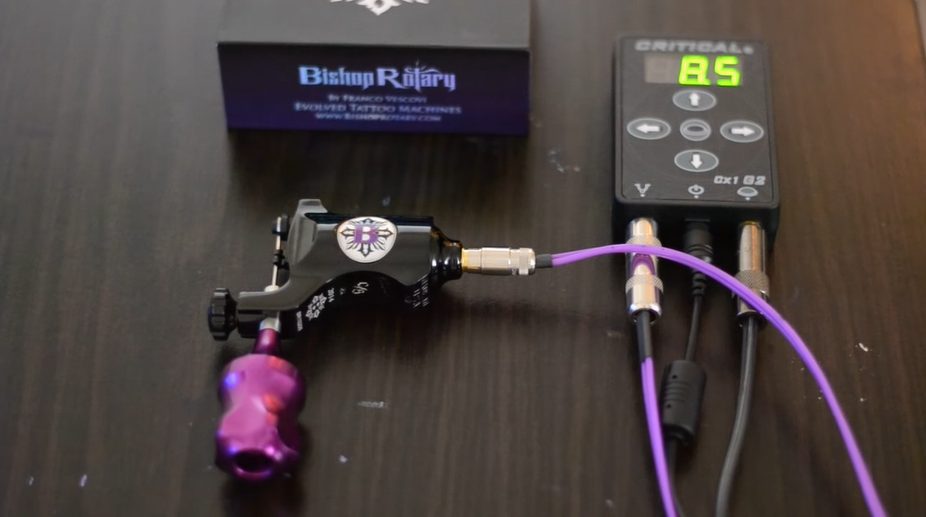 The second primary type of tattoo machine is the rotary tattoo machine. This type of tattooing machine was first conceived in 2010. Before that year, technology didn't exist to build miniature yet powerful electric motors.
The mechanism of a rotary machine is comparable to that of a sewing machine. It's equipped with an eccentric gear that is affixed to the motor's shaft. Its primary purpose is converting the rotor's rotation into the reciprocation motion of the needle.
Elements of A Rotary Machine
Frame
The frame's job is to act as a rotary machine's support. Rotary machines are typically composed of aluminum alloys or other sustainable hard polymers.

Electric Motor
The miniature electric motor powers your rotary tattoo device. Their size is what makes this type of tattoo gun lightweight yet efficient.
Eccentric
As mentioned earlier, this component acts as a bearing in tandem with an armature bar. It is responsible for converting rotor rotation into the needle's reciprocation motion.
A Design Component
Finally, this final part has the important responsibility of eliminating any transverse movement generated by the needle. As the eccentric operates, it generates simultaneous transverse, longitudinal movements. Companies remove this motion in many ways, such as applying rubber bands, strings, slide rails, spring-loaded levers, and a longitudinal component with some transverse grooves.
What Are The Types of Rotary Machines?
Like their coil tattoo gun counterparts, rotary tattoo machines come in different types, each serving different functions. The factor that sets these tattoo machines apart is how they deliver their reciprocating motions.
Direct Drive
As its name suggests, the direct drive rotary tattoo machine delivers its force directly to the cartridge or the needle. The needle is kept in constant oscillation thanks to the rotation of the motor. Rubber bands are used to lock the rod of the needle. This method dampens the oscillating movements of the needle. Ultimately, the device's power unit's quality determines the amount of time it takes for acceleration and deceleration.
Slider
On the other hand, a slider rotary tattoo machine delivers the motion by transferring a longitudinal element. Unlike direct drive rotary tattoo machines, the power level of the power supply is not that big of a concern for sliders.
Commutatorless
As implied by its name, the commutatorless rotary tattoo machine lacks a motor with a commutator. These tattoo machines typically weigh less compared to other types of machines. Additionally, these lightweights shouldn't be underestimated, as they can reach speeds as high as 1500 rpm. However, they can be quite expensive.
Pen
Rotary Tattoo Pen Machines usually come in an ergonomic form. The tattoo pen machine is the latest innovation in rotary machines. Cheyenne, a famous German tattoo equipment supplier company, is responsible for developing and pioneering the tattoo pen machine. What makes the pen style convenient is its tendency to be compatible with disposable needles and modules.
The pen-style machine transmits its longitudinal motion using a complex mechanism. Unfortunately, they are only compatible with cartridges. What's more, it can be expensive to maintain and repair tattoo pen machines. On the flip side, a tattoo pen machine is user-friendly and lightweight, making it appealing for any professional tattoo artist.
The Best Tattoo for Both Beginners and Pros
We've scoured the market for the best tattoo machines and tested them out for ourselves. Here are our recommendations for professional tattoo artists looking to make their mark in the tattoo industry.
The Cheyenne Hawk Thunder is the brainchild of German tattoo machine and supplies manufacturer Cheyenne. Although relatively pricey, this revolutionary tattoo machine boasts incredible durability and a powerful precision motor that generates practically no noise. No wonder professional artists and tattoo enthusiasts worldwide are impressed by its reliability, especially for long-term use.
Upon testing the machine for ourselves, we noticed that it rotates at a suitable speed to deliver efficient dotting and line with great precision and accuracy. Its innovative Responsive Mode allows the Cheyenne Hawk Pen to create 170 uninterrupted strokes per second. As you can see, this feature allowed us to complete our tattoo works quicker.
Built to meet strict medical standards
When Cheyenne created the Hawk Thunder, they focused on ensuring that artists would find it smooth to operate. We found this out for ourselves when we realized how gentle and safe it is, in addition to how clean it is to work with. We were so impressed that we could confidently say that this machine is perfect if you're obsessed with maintaining a hygienic working environment for your tattoo studio.
Like most artists, we know how annoyingly restrictive short cables can get. So we were amazed how liberating this machine is to use, thanks to its portable 3.5mm jack ensuring freedom of movement while we work on our designs.
The extra jack cage acts as an extra layer of security for the plug connection, so we were confident we wouldn't suffer any undesirable electrical issues while using the device. What's more, it's impressive is how the Cheyenne Hawk Pen has conformed to the medical standard ISO 13485 for strict quality management of medical devices.
Ideal for making dots and lines
Another thing we found pleasantly surprising about this tattoo gun is how light is. Weighing at around 95g, we experienced less fatigue while using it compared to other guns we tested. Simply altering your hand pressure already allows you to create soft shading work, so we recommend this tattoo machine for artists who want to practice designs or professionals looking to add a tattoo machine for their day-to-day operations.
Needle Depth Adjustment from 0 to 4 mm
While testing out the Cheyenne Hawk Thunder, we discovered something mind-blowing. Many other tattooing machines available on the market are designed specifically for certain tattoo styles, leaving little room for versatility. Essentially you'd need multiple machines if you want to achieve various styles. But the Cheyenne Hawk Thunder is essentially the Swiss Army Knife of tattoo machines owing to its adaptability to all available concepts while sacrificing little in terms of high-quality function. For this reason, this machine is sought after by many artists who find it reliable despite their diverse style strengths.
Not yet impressed? This tattoo machine is compatible with more than 40 different types of needles. It only takes a simple process to replace the Cheyenne cartridges. We also would like to point out that the needle depth adjustment of the Hawk Thunder goes up to 4mm under the skin, which promotes ink penetration better.
We were even able to customize it via 2 different-sized HAWK grips. Particularly, we were able to choose between these measurements: S: 22.0 mm/0.87 inch or M: 25.4 mm/1.00 inch to adapt to our Cheyenne Hawk Thunder Machine. So we found this feature important and enjoyable for any artist, especially if they are looking for customization and suitability options instead of settling for a fixed grip.
One of the most innovative qualities of the Cheyenne Hawk Thunder is how compatible it is with non-Cheyenne power supply brands. This quality eliminates limitations compared to its other Cheyenne predecessors. It essentially means you can use a different, non-Cheyenne power supply in case the one it comes with is defective or gets broken.
If you ever encounter any problems while operating this tattoo machine, we strongly recommend referring to the instruction booklet included in the package. You wouldn't need to worry about counterfeits since it comes in secure German sealed packaging.
Pros
Promotes flexible movement via a powerful motor
Produces high precision strokes of 4 mm
Available in 5 external colors
Includes 2 types of power cords
Compatible with diverse grip sizes (S and M)
Smooth color blending, shading, stippling, and dotting
Cons
No clear policy on the product warranty
The motor is sold separately from relevant parts
If we describe the Dragonhawk Mast Pen Rotary Machine, it's paying less while getting more. This low-priced but high-quality tattoo pen machine is one of the best rotary guns in the market.
As we tested this gun for ourselves, we quickly found how precise the tattooing procedures we could do with it all while doing it comfortably. No wonder many tattoo artists are fond of this rotary tattoo gun. We recommend this gun for all user levels since it's suitable for practicing or real skin applications. So no matter if you are a complete beginner or a professional, you will enjoy using the Dragonhawk Mast Pen Rotary Tattoo Machine.
There are several reasons why the Dragonhawk Mast Pen Rotary Tattoo Machine is a leading contender for the best rotary tattoo machine in the tattoo machine industry. Here are each of those reasons:
Stunning Design
Dragonhawk has pulled out all the stops for this device since they only used high-quality materials to make it despite its relatively low price. Thanks to the aircraft-grade space aluminum alloy frame, we are confident that it would be durable enough to withstand external impacts, so any tattoo artist could use it for years to come.
We also appreciated the ergonomic design of the gun's shell, and it delivers the most genuine feeling of using a real pen out of all machines in the market. We are certain that any tattooing professional would enjoy using this tool to create designs because it reduces hand fatigue, especially during long tattooing sessions.
Another advantage we discovered that, besides the lightweight build (approximately 120g with all relevant parts attached) of this tattoo equipment, it is essentially maintenance-free. After detaching the parts, it required little to no effort to clean and reinstall them.
Overall we are certain that tattoo artists of all user levels, even amateur tattoo artists, will find this tattoo equipment easy to wield and use while rarely running into any difficulties while creating their designs.
Impressive Motor Equals Impressive Performance
Amazingly, even though the Dragonhawk Rotary Pen comes with a powerful motor, it produces practically no noise and vibration, ensuring an extremely quiet session. Many people praise this quality since it does little to distract both artists and clients alike.
The advanced gear system was impressive to behold and experience for ourselves as we noticed how it performs better compared to traditional machines, in addition to its Japanese motor. We're even going to say that any tattoo artist can further refine your experience and skills by using this machine.
After testing this tattoo gun for ourselves, we are certain that this rotary tattoo machine is a good tattoo machine that artists will use for years to come.
Impressive Compatibility
Another great quality of the Dragonhawk Rotary Pen is its compatibility with an extensive range of tattoo needle cartridges commercially available. Furthermore, changing and replacing said cartridges is easy and convenient when needed. We tested it on several different cartridges, and replacing them was easy throughout.
We would also like to share that the device guarantees you a high level of precision as strokes are interchangeable. It owes this trait to its adjustable needle depth. This feature is useful for experimenting and testing different styles and techniques.
If you're looking for a machine to use for training when you have some spare time, we recommend using this machine for skin practice. It applies to most skin types making it efficient and convenient to use.
Pros
Little to no vibrations
Works silently
High-quality motor
Compatible with many cartridge needles
Cons
Probably one of the best tattoo machine brands on this list, HAWINK is the world's pioneer for developing and manufacturing digital tattoo machines and power supplies. They showcase their ingenuity in their products, making them the go-to choice for artists worldwide. Their after-sales support has earned them a lot of praise and has made them a trustworthy brand to tattoo artists.
Exquisite Material And Powerful Motor
The device's framework is crafted from aircraft-grade aluminum. And with the FAULBAHER German motor, these features would go hand-in-hand to ensure a seamless and high-quality operating experience. When we tested this device for ourselves, we were pleasantly surprised by how quiet and stable the device was to handle.
What's more, we tested the limits of this device in our studio by using it practically nonstop to see how it holds up. And by that 'nonstop,' we meant 12 hours! Imagine the look of surprise on our faces when we realize that the device's heat has not increased at all during that time.
Ergonomic Design And Brilliant Performance
We noticed that this tattoo machine's design was crafted to simulate the feeling of using an actual pen accurately. This trait made it incredibly comfortable to operate while making designs with it.
Sharp lines, vibrant colors, and exquisite shades were also a piece of cake for this tattoo pen. But this device isn't solely a treat for artists, as clients would enjoy getting their designs done by the Hawink Rotary Short Pen.
We can attribute this because of how gentle and smooth the device is and how it adapts to pretty much any skin type. This smoothness and gentleness mean less skin irritation and discomfort, making for happy and satisfied clients.
Other Impressive Features
We discovered that the HAWINK Rotary Short Pen is adaptable to almost all needle cartridges available in the market. In addition, we were also able to adjust its needle depth making for better ink penetration and precision.
Furthermore, we successfully managed to test its compatibility with almost all types of needle cartridges, and it passed with flying colors.
Professional tattoo artists are the primary users of this gun, but we recommend this machine for beginners since it is quite user-friendly. The lightweight nature and ease of control of this device mean that any artist can comfortably wield this device. Even if you are a beginner, investing early on in this machine will be worth it since you'll have a quality and reliable device for a long time.
Pros
Lightweight
Quality material
Powerful motor
Silent, stable, and smooth performance
Better healing result
Eligible for any user
Less skin irritation
Compatibility with needle cartridges
No overheating for a long time
Easy maintenance
Cons
We noticed that this special tattoo machine has a high-end, built-in LCD screen. Placed at the very top of the device, we were amazed at how we could easily track our progress during sessions as it shows many specifications such as running time, capacity, and voltage.
When using the device, you'll notice three buttons under the display. The biggest button turns the device on and off while the two other switches are used to adjust the voltage level of your rotary machine.
Long-lasting Battery Capacity
Upon doing our test, we found out that you can continuously use this tattoo machine for up to 8 hours, attributing to its 2000mAh capacity battery. Note that higher voltage usually means that your battery will drain quicker, but you can recharge the device's battery and reuse it after only 2 hours.
Versatility and Flexibility
We also applaud how flexible the Mast Archer is due to the 3.5 mm of versatile stroke length. We give a plus point to the flexibility of this pen. Thanks to the versatile stroke length of 3.5 mm. In other words, we were able to use this machine for shading and lining, which helped us successfully try different kinds of tattooing styles.
Unfortunately, we noticed that it doesn't provide as strong as a hit compared to a corded tattooing machine. So you may notice that it may take a while longer to tattoo solid colors. But this device is perfect if you are only looking for a good tattoo machine for shading and lining.
Pros
This pen-style tattoo device can adapt to all skin types.
You'll get fewer sores and cramps due to how lightweight and flexible it is.
Thanks to the built-in LCD screen, you can conveniently view the remaining time for your work.
The voltage is adjustable to find the perfect balance between power and energy efficiency.
Cons
This pen-style rotary gun is very expensive.
Artists would find their machines heating up in the middle of a session at some point in their careers. This situation can be particularly stressful and a waste of time if multiple clients wait their turn. Fortunately, that issue has become a thing of the past as what we've discovered with the Solong Tattoo Pen Rotary Machine, which can continuously operate for multiple hours without heating up.
Tattoo artists can practically mistake the device for a pen due to how light it is to wield. For that same reason, this pen-style tattoo machine is perfect for artists who delve into lip lines, permanent eyebrow markup, and eye lines.
Despite being compatible with many different tattoo supplies, you get 50 needles, a rechargeable battery, and a charging cable when purchasing a Solong Tattoo Pen Kit.
Pros
Cost-efficient as it can accommodate supplies for other tattoo manufacturers.
Less fatigue-inducing due to its being extremely lightweight.
Powerful but produces practically zero noise.
Top-quality craftsmanship
Multipurpose (can do permanent eyebrows, lip, and eye lines)
Cons
Gladly, there are no significant flaws worth mentioning.
Many artists think that the Kwadron Equaliser is one of the best-rated rotary tattoo pen machines. We know it makes sense after we tested this pen-style tattoo machine out for ourselves and took a closer look at its features.
Sleek Design With A Ton of Great Features
Our first impressions of the Equaliser were very positive. The sleek and durable design meant that it was perfect for projects that take an extended period since it is comfortable enough to prevent tiredness or cramps. It's quite light, with the aluminum frame weighing only 130 grams.
We were equally impressed with the machine's adjustable needle depth feature 0mm to 3.5mm and 4.5mm. What's more, the machine adapts to all needle cartridges.
Silent But Powerful
The Kwadron's motor is a testament to Kwadron's ingenuity and commitment to quality. This machine features a strong 5W motor and an advanced gear system. We couldn't help but notice how reliable the machine is while producing practically zero noise and vibrations as we were testing it.
Thanks to the mixture of comfort, versatility, reliability, and how quiet it operates, the Kwadron Equaliser is regarded as one of the best tattoo machines in the world. Unfortunately, it is quite expensive, so the price isn't as beginner-friendly as the device itself.
Pros
Sleek and durable aluminum frame
Adjustable needle strokes
Powerful motor working from 7 to 11 volts
Easy to clean and maintain
Cons
Extremely expensive
Not many accessories included