If you are the type of person who frequents nail salons to give your nails the pampering they deserve , then, you have experienced staying in the nail salon for hours, waiting for your polish to dry out.
You can no longer sit still and you're itching to grab your stuff and get out. The good news is that with the introduction of nail lamps, the long waiting game is finally over.
An LED lamp is not invented as a solution to the long waiting time or lack of patience. Rather, this allows salon-quality manicures and pedicures to be more accessible for personal or home use.
The 10 Best Led Nail Lamp You Should Check Out
An LED lamp allows a beginner to create nails that look like they've been done professionally without a lot of effort.
To accomplish this, not only will you need the skills to make amazing nail art, but you also need the right tools and equipment to make professional results . One important piece of equipment every salon should have is a gel nail lamp. Listed below are the best LED nail lamps available in the market today.
The Lumcrissy 72W LED UV Lamp is a wireless lamp that can dry up all kinds of UV and LED gel manicures. It has a 15,600mAH built-in battery made of high-quality lithium which is larger than any other rechargeable nail lamp. I honestly like that this LED UV nail lamp has 36 pieces of durable and long-lasting LED lights that can last for 50,000 hours.
This LED lamp activates on low heat mode and comes with 4-time selections: 30,  60, 99 and 120 seconds. It comes with an adjustable LED screen which is convenient. It comes with a smart touch technology that automatically lights up when it detects a hand placed inside it. This is a great gift for a friend that can give salon-quality results.
Pros
Compatible with all gel polish
UV/LED lights are non-toxic
Has a large built-in battery that can function for 8 hours when fully charged (12 hours for interruptible working)
36 pieces of LED bulbs delivers even distribution of heat
Cons
Requires the use of the original adaptor to avoid damaging the lamp
On/off switch tends to be faulty, not durable, and not long-lasting
Battery is not durable and long-lasting
The Gelish Harmony LED Lamp comes in a sleek white color that can cure all 5 fingers simultenously in just 45 seconds! This is the fastest curing lamp in the industry. When you use Gelish Soak-off gel polish, the Gelish nail lamp efficiently and quickly cures the polish that can last up to 3 weeks.
You can bring your Gelish Harmony nail curing lamp when you travel for it has a voltage input of 100-240 volts. You only need to bring a plug converter. This nail lamp is recommended for both students and professionals who are transitioning into the nail industry.
Pros
very portable and light-weight
Has built-in long-lasting LED bulbs that don't need replacement
Doesn't produce a loud and annoying beeping sound
Cons
Not wireless and rechargeable
Unusable during power outages
Light is not automatic.
Ovluv UV LED nail lamp has a simple and classic design that can dry most types of gel nail polish and extensions such as hard gels, UV/LED gels, CND Shellac, OPI, Sculpture, Guilders, and Builders. It has an LCD screen displaying UV nail drying time which can be set to 10, 30, 60, or 99 seconds in low heat mode. The Ovluv UV LED nail lamp has 42 LED bulbs which can be used for up to 50,000 hours.
This machine is convenient to use and the system instructions are easy to follow. The Ovluv nail lamp can evenly dry your nail polish and speed up your at-home nail curing. It comes with a long  cord measuring 6 feet. This LED UV lamp can bring the salon to your home because of its professional-grade technology.
Pros
Large and spacious to accommodate both hands or feet
Can dry the nails evenly and speed up the curing process
Has built-in infrared sensors that turn the light on or off automatically
Energy-efficient, energy-saving, and high-powered
Cons
Not wireless, rechargeable, or portable.
Doesn't work well with regular nail polish as it claims to be
Button switches are not durable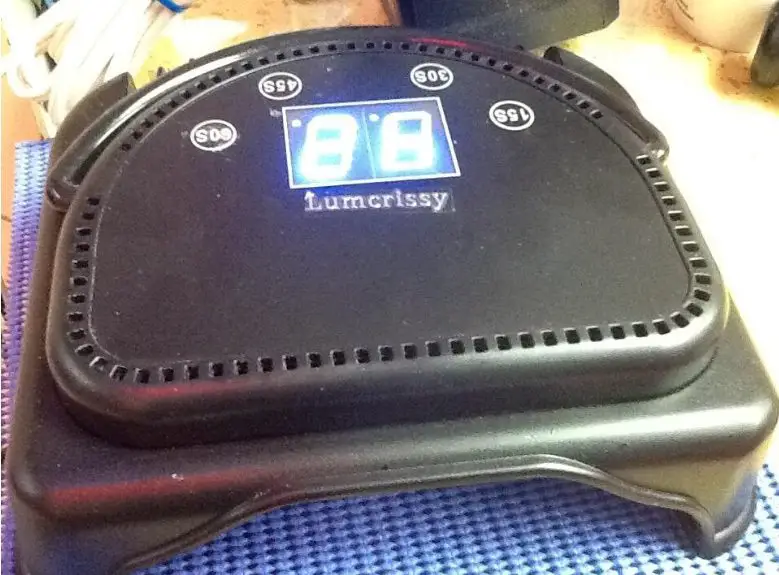 This UV LED nail dryer comes in a classic black finish weighing 5.8 pounds. This is made from zinc alloy that keeps the hands from getting too hot. It is made of 32 pieces of imported premium LED lights. The bulbs used are made from high quality packaging technology where a single bulb has the power equal to two regular LED light beads. The bulbs can last for up to 50,000 hours.
This nail dryer has a built-in LCD screen that displays the curing time. There are 4-time settings available: 10, 30, 45, and 60 seconds. It also has an automatic sensor with infrared induction indicating if there is a hand inside or none. All the nails are cured evenly, especially the thumb. This LED nail lamp can be used by beginners or professionals.
Pros
Easy to clean and convenient to use because of its Open Design
No dead zones
Covered by a one-year warranty and CE certificate
Cons
Heavy
Packaging doesn't contain the serial number, manufacturer's details, or any information on how to contact them.
Sensors and lights are not durable
Beetles LED nail lamp is one of the coolest designs available in the market. It is a nail lamp with a built-in phone stand! You can watch a movie or a nail tutorial video while getting your nails done. The Beetles nail lamp is compatible with all kinds of gel polish such as poly gels, base coat, top coat, hard builder gel, rhinestone glue and many more. It is spacious to accommodate your fingernails and toenails.
This LED nail lamp is user-friendly and comes with 3-touch time buttons: 30, 60, and 90 seconds. With the Beetles LED nail lamp, you get to experience the ultimate and hassle-free nail care experience! Not only does this lamp provide professional-looking nails, but it also helps reduce hand wrinkles and has age-defying technology.
Pros
Also serves as an entertainment dock
Has 24 pieces of LED light that are not harmful to the hands and eyes and
Can provide a service life of more than 50,000 hours
Manufacturer offers quality service.
Cons
May not work on most types of gel polishes
Heat may be too hot even on low heat mode
Sensors and lights are not durable
The Makartt UV Nail lamp is a user-friendly nail lamp that doesn't cause blackened hands and eye damage. This can cure almost all kinds of gels like LED gel, gel polish, dip powder, and poly nail gel. It is fairly easy to use for it only has a one-button and two-timer setting design.
Due to its compact design, it cannot accommodate your five fingers all at the same time. You need to cure your thumb first, followed by your four other fingers. With the Makartt nail lamp, you can feel the heat on your hands. Though, it may not necessarily burn your skin, it is best to put on sunscreen when using this machine. The Makartt nail lamp is great for professional salon use and for enjoying a home DIY nail art party.
Pros
Lightweight and portable
Comes with a USB cable.
Does the job of curing nail polish
Cons
Only provides two-time options: 30 and 60 seconds
Not spacious enough to accommodate your five fingers
Best to put on sunscreen when using this machine.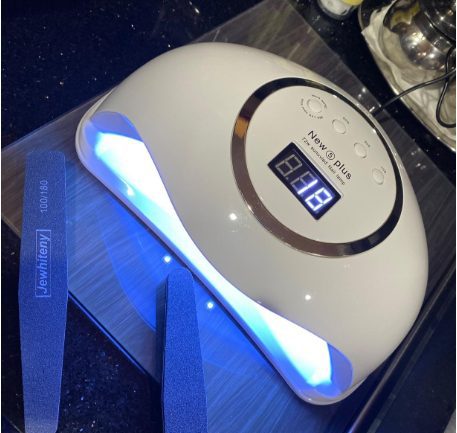 The Jewhiteny nail lamp has 36 pieces of 72 watts LED bulbs that can cure all types of LED nail gel, nail builder and sculpture gels, rhinestone gems glue, and Shellac. It is spacious enough to accommodate two hands or both feet inside the machine at the same time without worrying about messing up your nail polish.
It is convenient and user-friendly for it is designed using smart 2.0 memory. It also has an automatic sensor feature that can detect when there is a hand or foot inside the machine. It has a 4-timer setting for 10, 30, 60, and 120 seconds. It also has a large built-in LCD screen to show the curing time.
Pros
Can accommodate two hands or both feet inside
Has a smart over-temperature design that automatically shifts to low power when temperature is too high.
Has a detachable base for curing toenails
Easy to clean up
Cons
Has a non-closed design which can slow down the curing process
Electrical cord connected to the machine should be improved
Sensors and lights are not durable
Canvalite is a 160W LED nail lamp that gives off high power to shorten your nails' curing time. You can expect an efficient curing of nail polish within 30 seconds. It offers an advanced UV and LED double light source technology. This makes the curing time twice as fast compared to standard UV lamp.
The LED light source has a longer wavelength that provides a fast curing speed and no skin-burning sensation. The UV light, on the other hand, has a short wavelength which makes the curing process uniform and effective. This lamp is perfect for those with fragile and sensitive hands for the power slowly rises from low heat ot high heat. This dual light feature of the Canvalite allows you to attain salon-grade results even in your home.
Pros
Curing time is twice as fast compared to a standard UV lamp
Houses 42 pieces of lamp beads ensuring no dead zones
Offers a large space and removable base to house two hands
Cons
Specifically designed for use in the US
The machine may consume more electric power
Pain maybe felt when using the normal 30/60 seconds settings.
You can achieve professional salon nails in minutes with the MelodySusie nail lamp. It houses four large bulbs of 9 watts each. This lamp is well compatible with all types of gel nail polishes, 3D prints, LED gel polishes, jewelry resin, acrylic gel, hard / builder / extension gel, poly gel, CND Shellace, nail sculpture gel, and rhinestone gems glue.  It has three timer settings: 120, 180 seconds, and 30 minutes for various curing needs.
This LED lamp is good for curing resin, thus can be used for jewelry making, crafts decoration, casting and coating figurines, and the creation of resin paintings. This nail lamp is made from premium engineering ABS plastic making it essential and user-friendly for nail art professionals and beginners. The MelodySusie nail lamp is considered the best LED light model for gel polishes and is preferred by many customers.
Pros
Made from premium engineering ABS plastic material
Lightweight and sturdy
Has a sliding tray to position your hands and feet on
Large enough to accommodate 3D prints and toenail polishes
Easy to clean
Cons
Plug (110 volts) is designed to be used in the US only
Bulbs are not long-lasting and may need to be replaced every 3-5 months for consistent performance
Switches, sensors and lights are not durable
If you like applying multiple layers of thick gel polish or if you like using hard gel polishes, then the Winjoy nail lamp will make the curing process easier. It is a dual-light source nail lamp that is compatible with almost all types of gel nail polishes and can cure nails faster. It houses 42 pieces of durable UV/LED light beads with a rating of 168 watts. It can cure your nails two times faster than a normal 80 watts gel nail lamps.
This lamp has a detachable design that is easy to install and dismantle. It also offers no dead-zone curing and can be used for up to five years. It provides temperature protection for your hands and an automatic sensing system: hands in – lights on, hands out – lights off. The Winjoy nail lamp is a great gift to give to family and friends who like getting their nails pampered.
Pros
Dual-light source nail lamp
Compatible with almost all types of gel nail polishes
Cure nails faster
Has a full touch screen display
Has a smart sensor and temperature protection feature
Cons
Built-in infrared sensor can be affected by strong external light
Takes a long time to dry gel polish
The electrical cord is short
Switches, sensors and lights are not durable
Misleading sales information
Buying Guide: How to Choose a LED Nail Lamp?
Several nail lamp brands are circulating in the market. It can be overwhelming to choose which one is best for you especially if you are a beginner.
In deciding which nail lamp to buy, there are some factors that you need to put into consideration. The factors to consider are: price, types of nail polish to cure, curing speed, machine size, settings, usefulness, and warranty.
Which Is Better? LED or UV Nail Lamps?
You can't easily conclude that one is better than the other for both types of nails lamps have their pros and cons. UV lamps produce invisible UV lights while LED lamps produce visible light. LED nails lamps cure nails faster while UV nail lamps can cure almost any type of nail polish.
Though, most people may prefer to use LED nail lamps because of several benefits one can obtain from them. Unlike LED lamps, too much exposure to UV lights may cause skin cancer.  LED lamps are energy-efficient and you wouldn't need to replace a LED bulb ever again.
LED nail lamps are generally lightweight. Choosing a nail lamp brand depends largely on your personal or professional preference.
Personal or Commercial Use?
If you are looking for a nail lamp that cures faster, thus providing efficient and prompt service to your customers, then better to purchase LED nail lamps. For personal use, you can choose which brand specifications fit your preferences.
Portability
In choosing a lamp you have to consider whether it is handy and compact enough to carry around or pack up. You also need to consider if it's spacious enough to accommodate all 5 fingernails or toenails or if you need to separately cure your thumb followed by the other four fingers.
LED Lamp Controls
Are the controls understandable and easy to operate? If nail lamps offer special features, these controls should be available and functional. For instance, does it have a switch to turn on the light, or is it automatic when it detects a hand or foot?
Are the controls strategically positioned allowing the clients and nail artist to control the time setting and turn off the LED display screen if they desired?
Wattage and LED Beads
Nail lamps that have enough LED beads can evenly cure the nail polishes quickly. Also, lamps with higher wattage can cure and set the gel nails quicker. LED beads are designed for long-term use.
Most of them don't need replacement and can last for nearly 50,000 hours. Purchasing a quality LED nail lamp can be a good investment for your money.
Timer Settings
Different types of nail polish have different curing periods, thus the lamp you choose must offer a wide range of timer settings for you to choose from. Timer settings also allow you to control the temperature of the lamp.
Curing Times
Generally, LED nail lamps have a faster curing time than UV nail lamps. Under a LED nail lamp, it will only take about 30 seconds to cure a layer of nail polish while for a UV lamp it can take roughly 90 seconds.
Eye Shield
Most LED light source nail lamps have longer wavelengths. LED nail lamps do not cause harm to the eyes if you are exposed to them, unlike UV lamps.
Easy to Clean
You should choose a lamp that is easy to clean. It would be advantageous if the lamp has a removable base for ease of cleaning.  Also, you don't need special chemicals or tools to maintain it.
Nail Polish Brand or Type
Certain nail lamps can cure most types of nail polishes while some may cure specific nail polishes. This limitation is an important consideration when buying your nail lamp. You should do thorough research online or ask the brand specialist before making your purchase.
Warranty
Warranty is an important consideration when purchasing a nail lamp. Does the manufacturer offer repair, replacement, or refund for defective lamps? Is the manufacturer available to assist you when you have concerns?
Frequently Asked Questions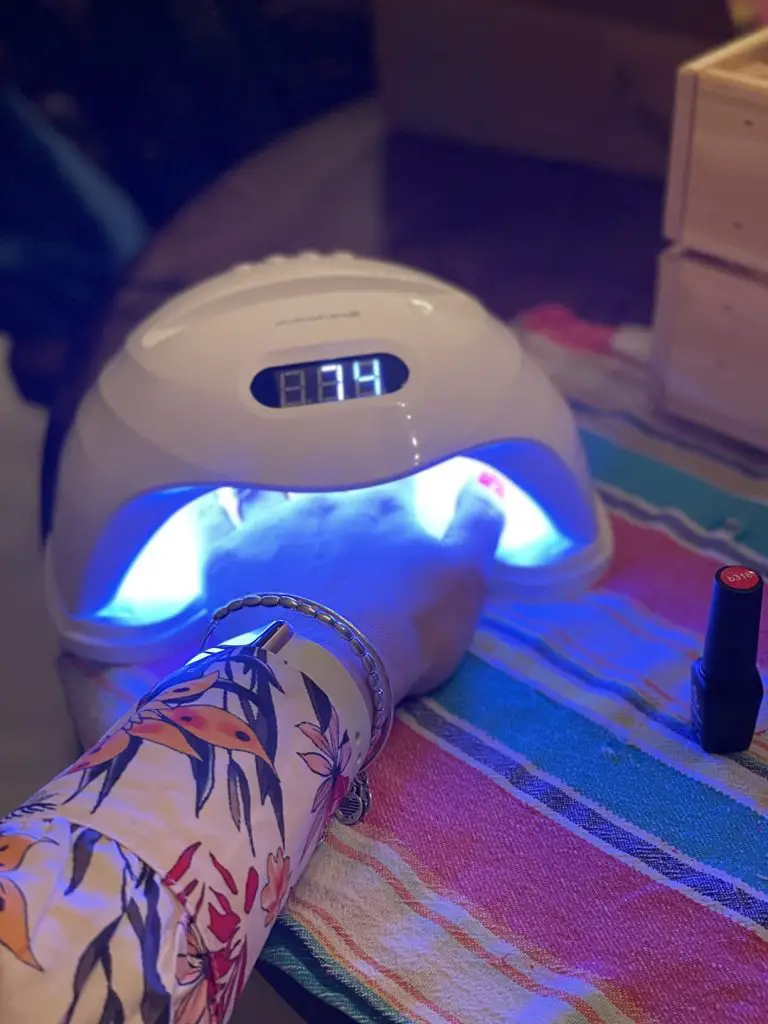 What Wattage LED Nail Lamp Is Best?
For home use, you need at least a 36 watts nail lamp. While for commercial or salon use, you need higher wattage so the gel nail polish sets faster.
Is a Higher Watt LED Nail Lamp Better?
A higher watt LED nail lamp is better and recommended for salons. Higher wattage means faster curing time, thus they can offer prompt and quality service to their customers.
What Wattage Should a Nail Lamp Be?
A nail lamp should at least be 36 watts. Most professional salons use a minimum of 36 watts of nail lamps.
What Is the Best Wattage to Cure Gel Nail Polish?
To cure gel nail polish, you need a nail lamp that is between 24-36 watts. If you are a beginner, you can buy a 36-watt nail lamp with 4 bulbs of 9 watts per bulb. Nail salons can choose higher wattage of nail lamps for faster nail polish curing.
Bottomline
There you have it! Whether you're looking for an LED nail lamp for personal use or commercial use, those are the best LED nail lamp you can choose from. From many user experiences and reviews, those are the top products that will make your gel nails long-lasting and of course pretty.